Trish Smith, a 45-year old mother from Michigan, is 77 lbs. lighter in less than 6 months. She started at 225 lbs. and I weighed her last weekend myself at our LIFE CAMP and she is now 148 lbs.! She decided to accept my challenge to get her health back on track and she did it! (Photos: Trish Smith Before and After; Trish with Maria Phillips; Trish with Bill Phillips at Transformation Center in Colorado.)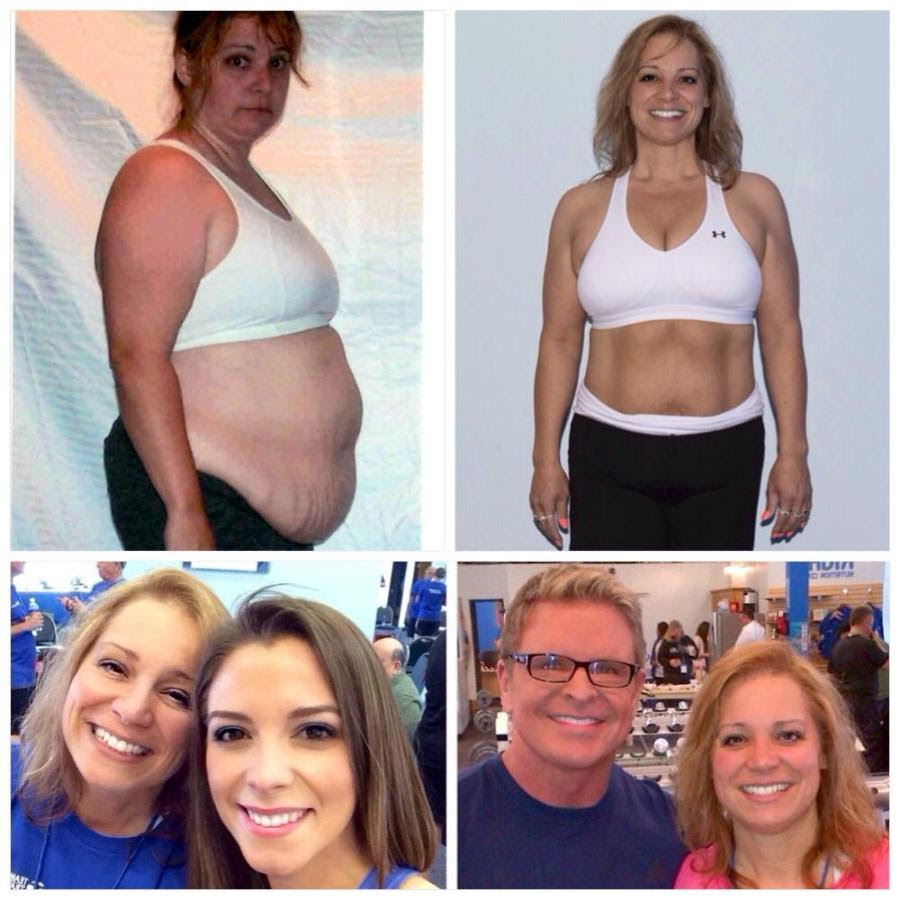 ++++++++++++++++++++++++
What about you? Do you realize that you have the same potential to change your body and improve your life as Trish has? Stop putting it off… make the decision to get healthy and do it NOW, please! Come see me at my Transformation Center in Colorado and I will help you transform your body and life too! ~Bill Phillips
++LIFE CAMP May 16, 17, 18: SOLD OUT
++LIFE CAMP June 6, 7, 8: We have room for just 4 more people to attend!
What is LIFE CAMP with Bill Phillips and how can it help you? Read the information below to learn all about it.
Camp is back by popular demand. And the new Camps take what we have been doing to the next level! We are calling it LIFE CAMP because it is not just about having a healthy body… it is about building a healthy LIFE! We have all new workshops and tools to help participants succeed!
We've received so many emails and calls from people asking us to bring back Transformation Camp. We aren't bringing it back though… we're bringing it forward. LIFE CAMP advances and evolves my 25 years of scientific research and practical experience in the field of health, fitness, weight loss, and personal transformation. The letters in the word 'LIFE' each represent points of emphasis in the new CAMP curriculum: Learning + Inspiration + Fitness + Energy!
LIFE CAMP brings together people from all walks of life that not only want to improve their health and get their body in great shape but who also want to support and encourage others to achieve their personal transformation goals as well. Working together as a Team is one of the most powerful aspects of this whole process.
I know from personal experience that over-coming unhealthy habits, making real and lasting changes in the way the body and mind work is not easy; in fact, it's a path that's going to bring up numerous challenges and sometimes we will get frustrated and even think of quitting. Please, please don't give up, don't give in, don't quit! Setbacks are a part of the process of success when it comes to transforming your body and life. This special LIFE CAMP is an opportunity to get back on track and re-energized. It's a place to talk through what you're struggling with and overcome it with the positive support of experts in this process.
Bill Phillips LIFE CAMP, like our previous Transformation retreats, is held over a 3-day period here at our Center in Golden, Colorado. Our events appeal to good-spirited people from all walks of life and from all parts of the world that have one thing in common… and that is, they have humbly and courageously made the decision to change their life for the better.
What's new and improved with LIFE CAMP? It's focused on a new 'curriculum' — improving our health and happiness is still the bottom line, but during this event I introduce improved techniques and tools to help you get the results you want in the short term while also improving sustainability and long-term success.
At LIFE CAMP, I will workout with you and show you the exact exercise program that will help you burn off unhealthy bodyfat while strengthening your muscles. This workout only takes 25 minutes a day and it has been scientifically proven to not only burn fat faster than ordinary exercise, it also lowers your risk of cancer and improves your heart health so much it is the recommended workout at the Mayo Clinic's cardiac care department. I want to make you an exercise expert while you're here so you can be your own personal trainer.
At LIFE CAMP I'll also teach you precisely what you need to eat to lose the excess weight once and for all. We must nourish ourselves back to good health–we do not 'diet' or starve the body to get results. Diets don't work; I will teach you a much better way and show you exactly how to put my plan to work in your own life.
Living longer and living stronger — optimizing the quantity and quality of your life — is what this Camp is all about. Much of what you will learn at LIFE CAMP is what I have learned over the past 2 years of teaching 37 Transformation Camps here at my Center in Colorado. I've studied people who've had breakthrough results as well as those who've struggled, and I have identified, very specifically, what works and what doesn't. This applies to getting breakthrough 12-week results, and also to sustaining and even building upon those improvements.
At LIFE CAMP you'll learn how to focus your mindset in a way that empowers your confidence and improves your results. I work with you to set challenging yet achievable goals and I give you a plan of action that will help you succeed. My teachings are straight-forward, scientifically-sound and presented in an easy going, friendly and fun style. I will give you the information and motivation you need to put that knowledge in action so you enjoy the fastest results possible!
Your investment in the 3-day LIFE Camp, where you will work with me personally, is $1,495. This includes the workshops, workouts, nutrition planning, and all your healthy meals during the 3-day event, as well as 12 full weeks of ongoing support to help you stay on track and achieve breakthrough results. I'll also take you out to a healthy dinner at one of my favorite restaurants on Friday and Saturday evening. We will have fun and also work hard all weekend.
Please don't put off making the decision to get healthy. I promise if you allow me to help, you will get results! My intention is to help make this the best investment in yourself that you've ever made.
++Our May Camp is sold out and we have just 4 spots open for our June 6, 7, 8 Camp. Please get back to me at your earliest convenience to confirm that you want to sign up before we're sold out again.
(Alumni and couples… ask about our $500 discount!)
Please include your phone number in your email to me so we can contact you and answer any questions and help book your reservation. Also, tell me a little bit about the results you'd like to achieve — what changes would you like to make?
Send your email to: BillPhillipsFitness@aol.com
Making the decision to attend Camp could change your entire life. I'm looking forward to seeing you in person, getting to know you, and I am very excited about helping you transform your body for life!
Sincerely,
Bill Phillips
BillPhillipsFitness@aol.com